5 DAYS 4 NIGHTS - DA LAT TOUR
:
: Call
: Call
Ngày 1 Thu gọn Xem thêm
DAY 1:
NHA TRANG – DA LAT- XUAN HUONG LAKE (Lunch, Dinner)
Morning: Tour guide and coach meet you at Nha Trang train station at 7.00am, depart to Da Lat.
Noon: have lunch, check-in at hotel and have a rest.
Afternoon: Freely sit on an old carriage or have a stroll through Xuan Huong Lake – is considered as the heart and breathe of Dalat City. Enjoy a warm cup of coffee in such cold afternoon weather of foggy city at Thuy Ta or Thanh Thuy restaurant (self- sufficient fee). Visiting and go shopping at Big C Supermarket- the sole supermarket in Dalat.
Dinner: You will have dinner at a restaurant. In the evening, you have freedom of discovering night view of Dalat or enjoy some special hot dishes at Hell Market, sharing story together on romantic bikes. Relax in Dalat.
Ngày 2 Thu gọn Xem thêm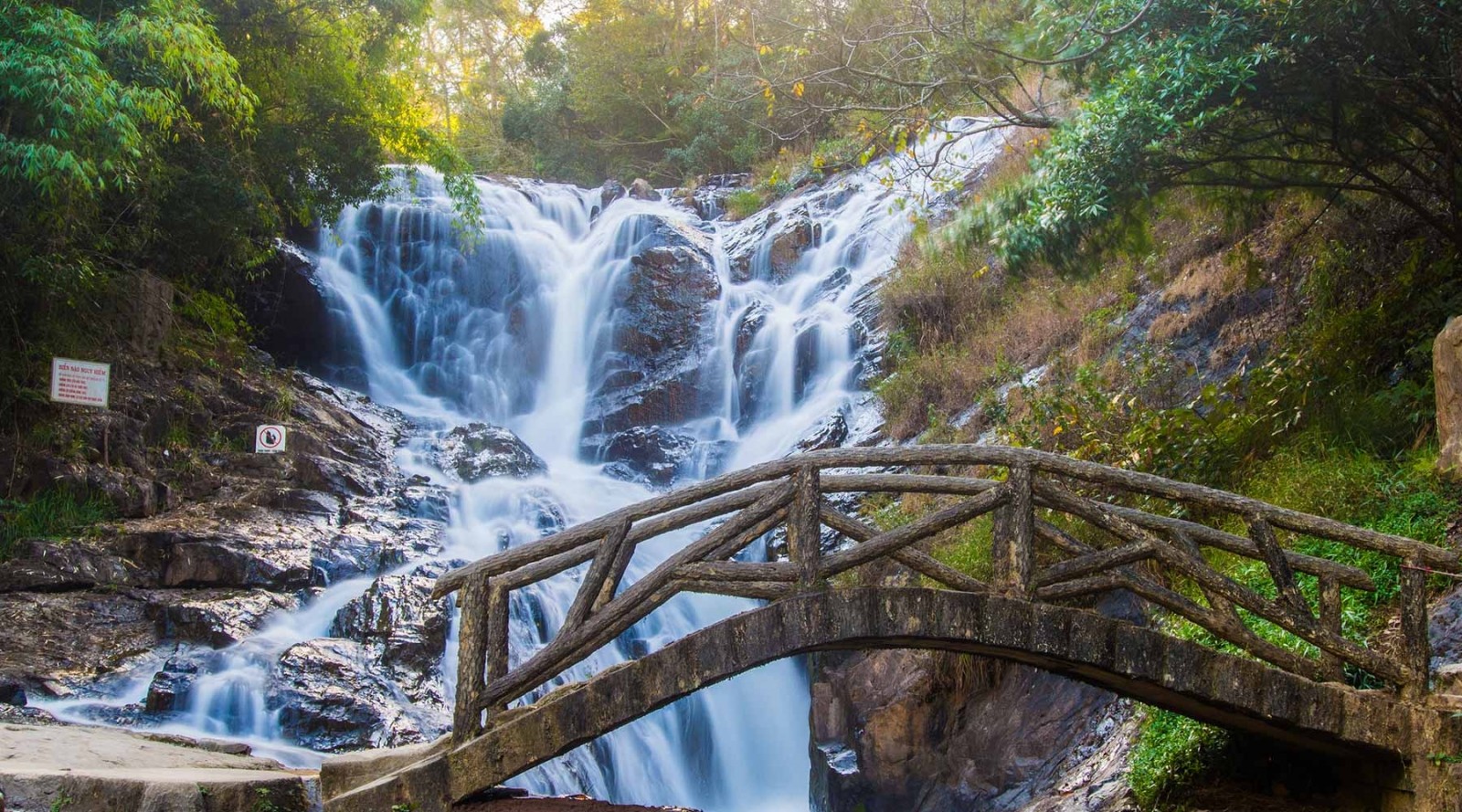 DAY 02: BAO DAI PALACE- TRUC LAM TEMPLE- DATANLA WATERFALL (Breakfast, lunch, dinner)
Morning: Have breakfast. Coach and tour guide take you to Clay Tunnel with the height of 2km, reconstitute the history of Dalat from the early time to now. You visit Linh Phuoc Temple with special structure made from bottles. Going on visiting Truc Lam Temple – one of the biggest temples of Vietnam following Thien Tong group or called Truc Lam Yen Tu which was established by King Tran Nhan Tong in 1299. Surrounding the temple, many ornamental trees and a lot of kinds of flowers are grown that makes the peaceful vibe in such a temple, and helps you find out yourself after busy bustle and hustle of life. DATANLA- a marvelous valley in the middle of plateau, coming with many mysterious stories of ethnic here. You can enjoy lots of expressions by tube sliding car system (self-sufficient fee).
Noon: Take a rest and have lunch at restaurant.
Afternoon: Tour guide and coach will bring you to City Flower Garden- where hosts Festival of Dalat Flowers once per 2 years with over 300 kinds of the most unique and beautiful flowers of Dalat and World converged here such as: orchids, cactus, Bonsai, Lavender, water-rail, camellia, rose,…Domain De Marie – or called Lady Domain, a group of women in Vietnam in 1928. The church has style of Western structure built mostly by lime and molasses.
Evening: Relax and have dinner at restaurant. Then, you explore the foggy city at night yourself, participate in gong culture exchange program with K'ho Lach people (self-sufficient fee). Overnight in Dalat.
Ngày 3 Thu gọn Xem thêm
DAY 03: DA LAT (Breakfast, Lunch, Dinner)
Morning: Have breakfast at hotel, check out. Coach and tour guide will take you to Langbiang Mountain- the roof of Dalat with the height of 2.167m, where was famous for a legendary romantic story between K'lang and H'biang. You can conquer LangBiang's top by jeep through the steep road around the old pine forest (self- sufficient fee). From the top of mountain, you will feel the cool fresh air of forests, sightsee and capture Dalat's view, golden or silver stream… Entering Lat Commune of K'ho people, you have a chance to understand more about life, culture, traditional customs and indigenous practices. Witnessing directly how to make brocades, listen to old villager's stories.
Noon: Take a rest, have lunch at restaurant.
Continuing visiting Ancient Villas – filled with lots of beautiful villas built since the 30 decades by French. This place used to be the refuge of French officials in the past, or politicians, famous scholar until after 1975. Train Station – one of the most beautiful train stations of Indochina at that time, it is a combination of Western structure and type of communal house on Highlands. You will have a chance to contemplate the first engine working by steam that invented in 1936 with unique and rare serrated rail in the world.
Have a dinner, have a rest in Dalat.
Ngày 4 Thu gọn Xem thêm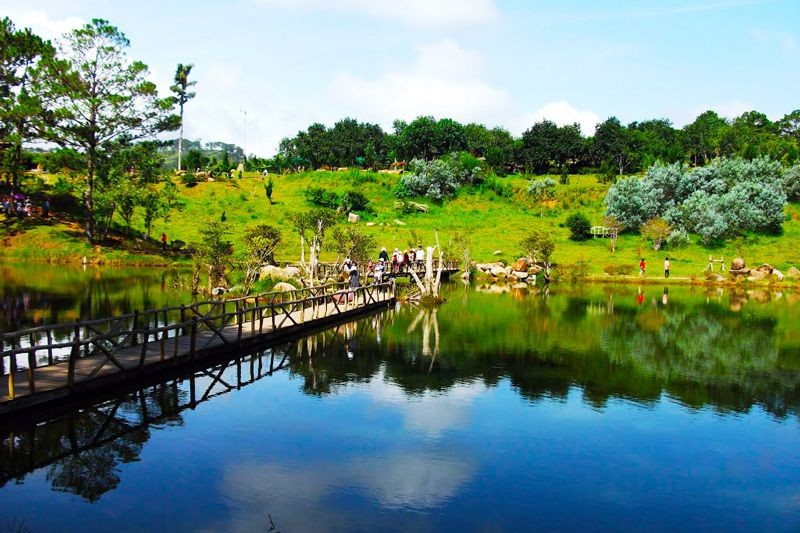 DAY 04: DA LAT- NHA TRANG (Breakfast, Lunch, Dinner)
Morning: Have a breakfast, depart to Nha Trang
Noon: Have lunch at resrautant.
Afternoon: Visit Nha Trang aquarium Institute, church, have a mud bath in Thap Ba that helps you relax and curing (self-sufficient fee)
Evening: Have lunch at restaurant, you can enjoy the specialty of Nha Trang called "Nem nuong" (grilled meat roll).
Ngày 5 Thu gọn Xem thêm

DAY 05: NHA TRANG- DA NANG (Breakfast, Lunch, self-sufficient fee)
Morning: Have breakfast, tour guide and coach will take you to Cau Da Harbor, move on the boat and depart to Hon Mieu to visit Tri Nguyen aquarium. Sightseeing the ancient boat and explore hundreds of creatures here (pay for your visiting ticket). Then, the boat brings you to Coral Bay, you will see the fresh water and perfect beauty of Nha Trang bay. Coming here, you can swim to immerse in clear water and contemplate coral system here ( we will provide life- jacket, diving glass, snorkel when you are on boat). Moreover, you can take part in many thrilling games such as: diving to discover the ocean, water motor, parachuting,…(pay yourself for thrilling games). Have lunch. You keep going on visiting fishing village of Bai Tranh.
Back on the boat, and come back to harbor. Coach and tour guide see you at Nha Trang train station.
/
INCLUDED SERVICE:
Modern 29-seat coach, air- conditioner, modern audio
2-star hotel standard: 2-4 people/ room, in case that one person sleep in one room that you have to pay for the additional charge of single room.
Have 9 main meals, 100.000 VND/ ration
Professional, energetic tour guide.
Tickets of aforementioned destinations
Bottle of water
Tourist insurance
NOT INCLUDED SERVICE:
VAT tax
Jeep to go to Liangbiang, Dalanta tube sliding car, cable ticket to Truc Lam Temple, venturing games, ground tickets in Nha Trang
Potential problems out of program such as laundry at hotel…
NOTE:
Free tickets for under 4 kids, 5-9 aged kids accounted for 50% of tour price, over 10 is set an adult.
Must provide an adequate list of personal information and number phone of group.
Program content may be changed depending on the weather or guest's flight, but still guarantee visiting enough destinations mentioned in tour program.
| | | |
| --- | --- | --- |
| KIND OF PAX | POLICY | TOUR PRICE |
| Adult | Over 10 : 100% tour price | 3,600,000 |
| Kid | From 5-9 : 50% tour price | 1,800,000 |
| Kid | Under 4: free | 0 |