Da Nang Fireworks 2017
At the press conference, the organizers said that from the fireworks competition in Da Nang international cycle takes place with 2 years / 1 times, the name has been officially changed to the International Fireworks Festival Danang with cycle Every 1 year / time, lasted for two months. Festival by the SUN Group in collaboration with Da Nang City co-organized, with the desire to change the concept of Danang from a competition venue fireworks become a cultural space tourism festival special excellence, serving tourists and locals. SUN Group is also assigned to Danang fireworks festival held continuously for the next 10 years.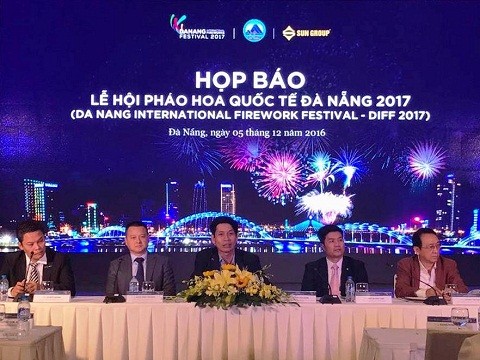 Accordingly, DIFF 2017 will include 8 teams from countries with developed art fireworks as America, France, China ... In particular, the host country's fireworks will be investing heavily to get physical quality and good technology, can go towards playing abroad, continue to make targeted branding City fireworks Festival for the long-term Danang.

The festival will officially take place on the evening of Saturday every week, 29/4, 20/5, 27/5; 3/6 and 24/6, per night including 2 team competition performances. With the theme "Shining Marble", this year's festival program sequence with 5 nights of fireworks named Mars - Saturn - Kim - Mercury - Jupiter fireworks onstage Marble years in similar positions before on the Han river, the night of the fireworks will be televised live on Vietnam television broadcast of the night NAMSONG but fireworks, Danang will be exciting rhythms 2 festivals throughout the summer months with festivals accompany and support such as: Festival "Barefoot in the sand" and "Lighting the flame of gratitude"; Cham culture festival; Sculpture Festival; International Food Festival "Marble"; Beer festival and street festivals, ... bring promising Danang experience a very different for visitors and residents.