3 DAYS 2 NIGHTS TOUR : DA NANG- MARBLE MOUNTAINS- CHAM ISLAND- LINH UNG PAGODA
: Da Nang
: Coach
:
: Daily
: Call
: Call
Ngày 1 Thu gọn Xem thêm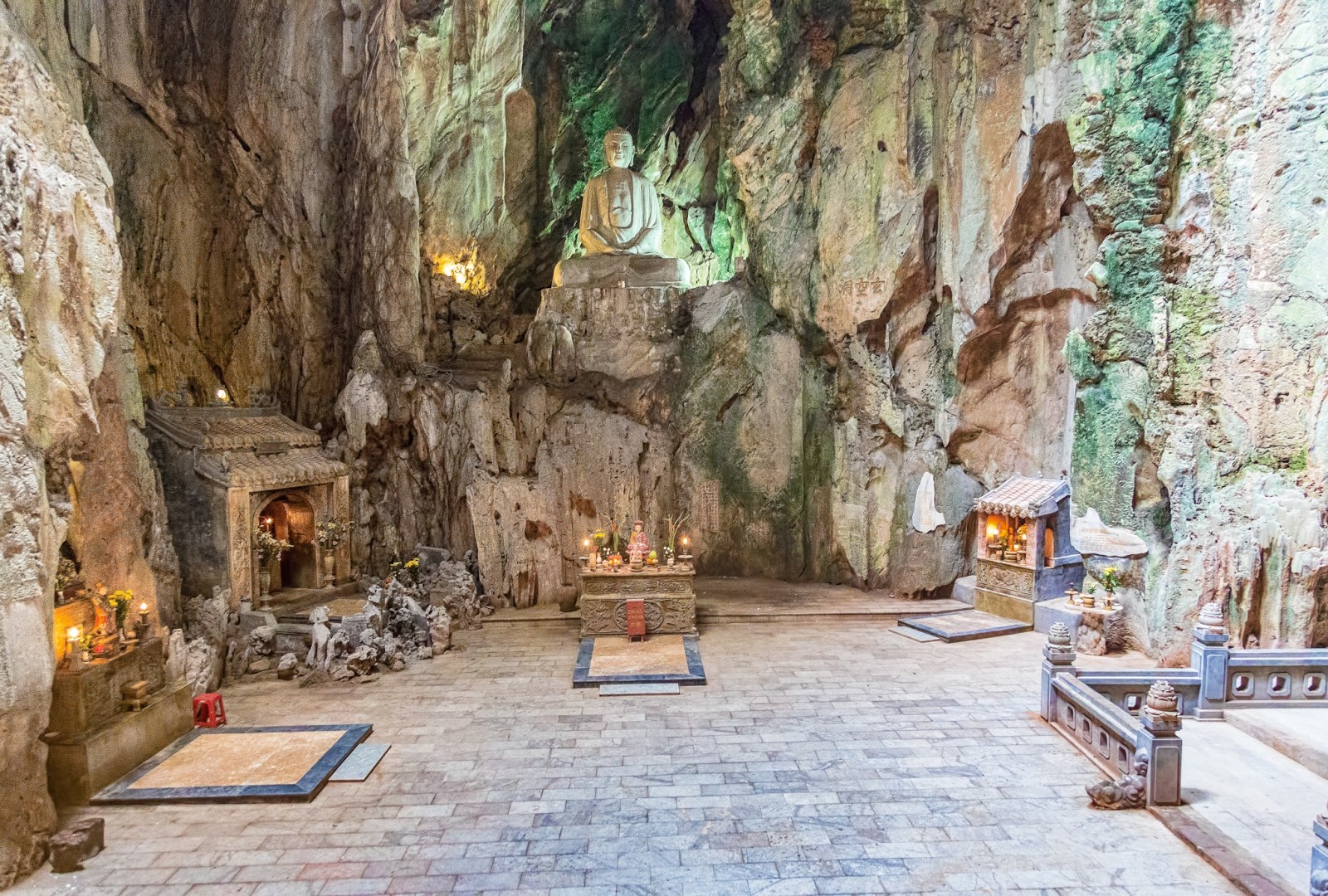 DAY 01: DA NANG – MARBLE MOUNTAINS- HOI AN
Noon: Coach picks you up at the meeting point and take you eat out with Danang specialties - pork roll and Quang noodle, after then coming back to the hotel to check in and have a rest (in the case of room available early)
Afternoon: Tour guide and coach come to pick up the guest at hotel to depart to Hoi An along Vo Nguyen Giap- Truong Sa coast. The first stop in city is Marble Mountains, you will be immersed in marvelous space of nature, centuries- old god' world, and traditional people. Then, stopping at an ancient village Non Nuoc, visit sophisticated and artful work of craftsman here, contemplate the statues and works made from stone.
Evening: You will enjoy and understand deeply about special cuisine of Danang, then, you have a chance to saunter around Hoi An. Coming to such an Ancient Town means it is so amazing with a wide range of colorful lanterns, street vendors, or even some sweet melodies, wooden bell striking sound near Hoai River. You then visit well- known destinations such as Japanese Bridge, Museum of History, Fukian Assembly Hall or Ancient House with hundreds of ages. Car take you return back to Danang, freely visit the night view of Danang, finally, you rest at three- star hotel in Danang city.
Ngày 2 Thu gọn Xem thêm
DAY 02: DA NANG- CHAM ISLANDS
Including
:
Breakfast // Lunch // Dinner
Morning: Coach and tour guide of Ziontour will pick you up at hotel, depart to Cua Dai harbor and move on canoe to go to Cham Island. You will enjoy the feeling of sitting on the high- speed canoe, surf the wave in 20 minute. Setting our feet on Bai Lang, you start exploring it that you will contemplate many objects displayed in the museum of this island. After then, you will visit Hai Tang which is a sole and ancient pagoda of island. This pagoda has a unique structure with over 300 year long- standing history. Tourists can also see a range of beautiful coral beneath the ocean at Bai Ong. This biosphere reserve has more than 300 kinds of fish and 300 kinds of gorgeous corals. You will have a chance to dive into the fresh water and enjoy many colorful corals.
Noon: You will have a fresh seafood meal and forest vegetable in the restaurant nearby the beach on island. After finishing lunch, you freely visit and have a stroll through the island.
Afternoon: Leaving Cham Island, canoe will take you back to the land and then our group will come back to Danang city.
Evening: You will have dinner in a restaurant, freely explore and sightsee the night view of Danang. Take a rest in three- star hotel.
Ngày 3 Thu gọn Xem thêm

DAY 03: DANANG – SON TRA (Breakfast and Lunch)
Including: Breakfast // Lunch
Morning: Have a breakfast at hotel. Coach and tour guide of our company will bring you to Son Tra Peninsula located to the East- North of Danang city and 693m higher than sea level. This is a plentiful and diversified nature reserve which attracts many tourists to come here. You may visit Linh Ung Pagoda with unique Buddha statue. Especially, it is impressive to have the highest Lady Buddha of Vietnam with height of 67m. From the high point, you will be enjoy the view of Danang to the fullest.
Noon: You get lunch at restaurant. After then, you will go shopping at the Middle Specialty Supermarket which buys a variety of specialties of middle area with good quality, reasonable price. Coach and Tour guide will take and see you at the airport.
/
INCLUDED SERVICES:
New model of coaches, modern air-conditioner and audio system.
Hotel room with three- star standard: 2 people/room, extra person can share with 2 people room, in the case of 1 person for a single room that must pay for additional charge.
Three- star hotel for reference: Star, Tay Bac, Lenid, Green House…
Have 5 main meals, standard of 120.000VND/ration
Energetic, enthusiastic and professional guide
Bottle of water
Tourist insurance
NOT INCLUDED SERVICES:
VAT tax
Diving ticket fee
Potential problems out of program such as laundry at hotel…
NOTE:
Free tickets for under 4 kids, 5-9 aged kids accounted for 50% of tour price, over 10 is set an adult.
Must provide an adequate list of personal information and number phone of group.